Watford reach FA Cup Final after a memorable comeback from 2-0 down to beat Wolverhampton 3-2 in Extra Time.
Former Barcelona and Everton forward Gerard Deulofeu stole the headlines after coming on as a sub and scoring two crafty goals in an FA Cup thriller like no other.
The FA Cup Semi Final being played in Wembley Staidum saw Wolves taking a two goal lead after slightly more than an hour of play with goals from Matt Doherty and Raul Jimenez.
Raul Jimenez celebrated his goal in WWE style sporting a mask ala Rey Mysterio, oblivious on what was yet to come.
As the Thai people like to say, "Same same but different" right? J
At this stage few believed in a Watford comeback with something like 30 minutes on the clock left to play.
However, four minutes after Wolves' second goal, Watford coach Garcia threw the Spaniard Deulofeu in the mix. Unfortunately for the Wolverhampton supporters, the substitution proved to be the pivoting point of the match in favor of the Hornets.
It took Deulofeu just a few minutes to leave an impact on the match, and what an impact! Thirteen minutes after his introduction to the game, the Spaniard presented himself with a spectacular chip-shot which will probably go down as one of the best goals in FA Cup ever.
Chapeau Mister Gerard Deulofeu that was an absolute beauty and Loony would like you teach him this trick so he can impress his friends.
With the match in its dying seconds of injury time, Watford were awarded a penalty which Troy Deeney converted for a 2-2 score line at the end of the regular 90 minutes and therefore sending the game into Extra Time.
With the momentum heavily stacked in their favor, Watford went on to complete this masterpiece FA Cup comeback. The Hornets scored in Extra Time and once again it was Deulofeu who found the back of the net, becoming an instant sensation for the Watford fans.
The moments worth noting did not end with the final whistle though as Watford's skipper Troy Deeney gave an astonishingly honest post-match interview while Watford supporters celebrated their first FA Cup final appearance since 1984.
The 30-year old touched on a number of topics including his time in jail and his football upbringing. Check parts of his interview in the links below provided by beIN Sports and BT Sports respectively.
He also did not pass up the chance to mock Raul Jimenez on his mask celebration. "I'm glad he put that mask on – he could wear it out now as well, now he's a loser. So, enjoy the mask – we got the victory," he added.
He then not only demanded a new deal but also poked some fun on the other FA Cup semi-final between Manchester City and Brighton.
Watford, currently sitting in 10th place in the Premier League, will now face the star-studded and reigning Premier League Champions Manchester City in the FA Cup Final.  Top job Hornets! Loony wishes you the best of luck for the Final.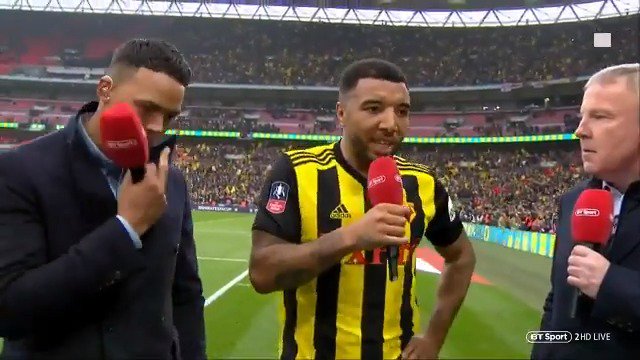 You really shouldn't walk into a pub with a fellow football club manager and talk about how your loss in...